The Scottish Wedding
The traditional Scottish Wedding is what many think about when hiring a piper.  The kilt, the skirl of the pipes, and the tradition of bring just the right mix of old and new to your event.  My basic rates for solo performances with general descriptions below. All rates include appropriate Highland piping attire, including kilt.
Scottish wedding samples
0:00/0:48

0:00/1:50

0:00/1:00
Pricing
1/2 hour rate:
($200 + travel time/mileage surcharges if outside Greater San Antonio area*)
This option is usually requested when the ceremony includes other music and Highland piping is not desired during the ceremony.  Usually, I play appropriate tunes (jigs, reels, strathspeys, etc) outside of the venue as guests arrive.  This option blends the traditional look and feel of Scottish tradition with traditional wedding ceremony.

Full Ceremony rate:
($300 + travel time/mileage surcharges if outside Greater San Antonio area*)
This option brings the full Scottish tradition to the ceremony. It includes piping before, during, and after the ceremony--as much or as little as you desire. As with the half-hour rate, I ususally play for approximately 15-20 minutes in front of the venue/church as guests arrive.  I also can play at various times during and after the ceremony (see suggestions below).  

Suggested piping in the ceremony -- you can include all, some or none of these suggestions: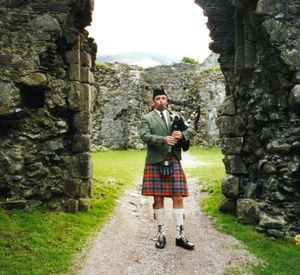 - Playing in the mothers
- Playing in the bridesmaids
- Playing in the bride (leading the bride and her father forward in the traditional fashion)
- Lighting of the candle
- Playing the recessional
- Playing outside the vene as guests depart
- Playing the gride and groom to the departure (if immediately after the ceremony and on premises)

 
---
FOR ALL BOOKINGS:


Deposit: A $50 non-refundable deposit is required to secure a booking.   

Additional charges that may be applicable:
Travel outside Greater Columbus Area:  - Variable - If the wedding ceremony is outside of the Greater Columbus, Ohio  area an additional charge may apply to cover the round trip time and fuel costs.  A flat rate of $50 per half hour will apply .
Secondary location PA relocation: $150 -  For non-acoustic performances (e.g., a PA is required) if we are required to relocate the PA for a second performance, an additional $150 charge is required to cover time and labor of PA breakdown, relocation, and set-up.  The fee will be incurred with each relocation.  This fee does NOT apply for acoustic performances or performances where sounds is provided by a 3rd Party professional sound engineering team.  
Additional time: ($50 per half-hour) - If additional retainer is required, such as piping afterward at the reception, more time can be booked at a reduced rate.  Please note that this rate only applies to time agreed upon prior to the event.  Additional booking on site will be charged at the rate of $100 per half hour.
The Rehearsal: ($150 base rate per requested performer + travel time/mileage surcharges if outside Greater Columbus, Ohio area*).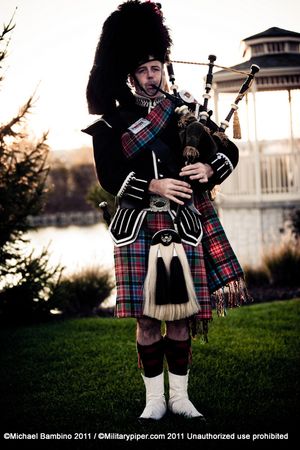 NOTE: I do not book events with other pipers. My primary goal is to provide a professional performance for you and your guests to remember in positive light for years to come. In all but the rarest of occasions, booking with unknown pipers and/or the expectation to play with other musicians without a rehearsal results in disaster. There are many reasons for this, including dynamics of the instrument (e.g., getting all the instruments in tune with each other, the volume of the pipes, etc.), dissimilar tune settings, and varying degrees of musicianship among local pipers.